Potential Restrictions For

Your State


Could Impact Your Ability to Own One.
Unfortunately there's a chance your local government has already or will soon pass new regulations restricting you from owning either of these weapons.

This is why it's important you get yours while you still can.

You don't need to fill out any paperwork to get these…

And there's no license necessary for ownership.

However… our government shows no signs of letting up on their attacks of our constitutional rights.

And we see the writing on the wall… one day in the future it may be illegal for us to ship these to you.

Which is why it's critical you grab as many of these micro weapons as you possibly can...

…before the government decides you're not smart enough or responsible enough to decide how you protect yourself.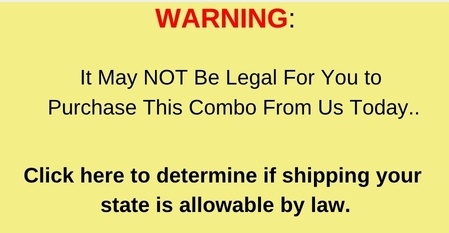 See Why These 2 Micro-Weapons Are the
Ultimate In Stealthy Self Defense
The best way to protect yourself from violent attacks is with a gun.

However, as we've already shown you, your right to own (and carry) a gun is under attack.

In many cases, you're not legally allowed to carry a gun for self-defense.

If you want to level the playing field and stop bad guys in their tracks… these 2 micro weapons can help.

Introducing the Mini Shockwave Stun Gun and "Hot As Hell" Pepper Spray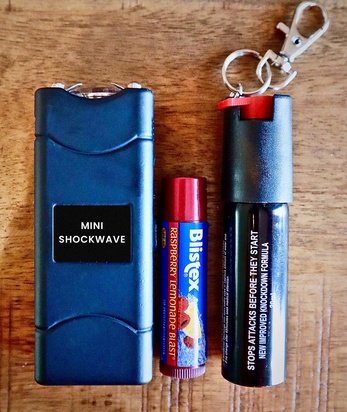 Mini Shockwave Stun Gun and "Hot As Hell" Pepper Spray are ideal for self-defense for 1 simple reason.

They work just like a gun.

And they do that by leveling the playing field, so a 95-pound grandmother can successfully defend herself against a 250-pound, drug-fueled criminal.

Not only do these micro weapons pack enough punch to ruin an attacker's plans… they're extremely compact and ultra-lightweight so you can comfortably carry them all day long.

With them in your possession you'll always have the power to take down an attacker. No matter how big, how strong, or how crazy they are…

And in a land full of pepper sprays and stun guns here's what makes the Mini Shockwave Stun Gun & "Hot As Hell" Pepper Spray the obvious choice for Americans who want the power of self-protection in their hands!


Why The "

Hot as Hell

" Survivor Pepper Spray Is
the Best Pepper Spray For Protection
The "Hot As Hell" Survivor Pepper Spray is easily one of the best weapons for self defense.

Here are 6 must be seen reasons showing you why that's true: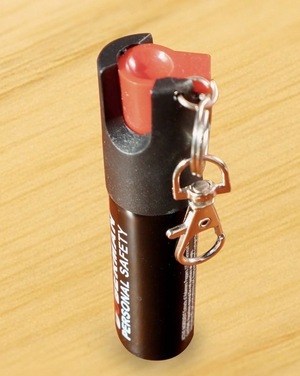 1. Lighter than a feather With a full ½ oz of 18% hot pepper formula packed inside, the canister only weighs 2.56 oz. (including the safety case). So light, you can carry it on your keychain and never once get annoyed you're carrying it with you.

2. Like the Energizer Bunny: The Energizer Bunny keeps going and going… and the "Hot As Hell" Pepper Spray will keep going and going too. It's reusable for as many as 10-15 times. That way, if you're attacked by multiple assailants you can fight them all off over and over again.

Not to mention if you ever have to use it (like on a dog, or a person) you won't have to throw it away after that single use.

3. Delivers the fury of an atom bomb: This pepper spray packs a brutal 18% Hot Pepper Formula inside. So hot, that when it touches skin and eyes it'll make the victim feel like they're melting!

**** SPRAYS UP TO 16 FEET TOO! *****
4. Simple & safe to use: While your pepper spray might be powerful, it remains simple and safe to use. Equipped with an advanced safety feature, you have to purposefully lift the trigger and slide to the left before deploying. However, once you've take the safety off all you need to do is point and shoot.

TURNS ON AND SHOOTS WITH ONE HAND
5. Like the Swiss Army knife of pepper spray: Your "Hot As Hell" Pepper Spray has a special UV dye inside the spray which gives police an easy way to identify and arrest the creep that attacked you!

6. Sticks to you closer than your shadow: Your Free pepper spray comes in a handy leather carrying case so it's never any further away from you than your shadow.


All this makes the "Hot As Hell" Pepper Spray a great self-defense tool for anyone of any age.

But it's best friend, the Mini Shockwave Stun Gun, is just as bada**.


Once You See What the Mini Shockwave Does -


You'll Never Leave Home Without It
Barely larger than a box of matches, the Mini Shockwave Stun Gun is one of the smallest stun guns on the planet.

But don't let its small size trick you into believing it couldn't drop an attacker to the ground.

The Mini Shockwave Stun Gun will devastate an attacker.


That's because the Mini Shockwave Stun Gun is a 4 amp, 3 million-volt Stun Gun.

3 million volts and 4 amps is enough current to disrupt the beat of a grown man's heart!

It's so powerful it has a built in wall plug so it can be charged →

However, that kind of power isn't the only reason you should carry it everywhere.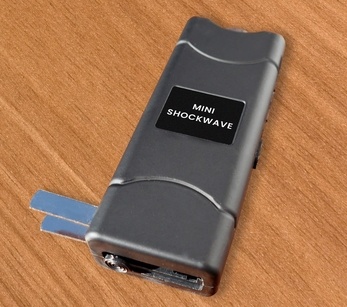 1. It's the ace up your sleeve: Thanks to its incredibly small size, the Mini Shockwave Stun Gun is the ace up your sleeve for self-protection. It doesn't pop up on x-rays and scanners so you can conceivably take it places most weapons can't go.

2. Easy like Sunday morning: Self defense should never be complicated, and the Mini Shockwave is as easy to use as Sunday morning is to enjoy. With the press of one button a surge of electric energy helps wrap you in a forcefield of protection no bad guy will want to tangle with.

3. Surprisingly easy to forget: Because it's so small, it's easy to forget the Mini Shockwave is even there. Fortunately, it's easy to grab and use so in that moment when you need it most it'll be just as easy to use for powerful protection.


All these qualities add up to make the Mini Shockwave Stun Gun a must have.

Take it where you can't carry a gun or a knife…

So you're protected when other weapons can't protect you.


URGENT: You May Not Be Able To Buy These In The Future
As you've learned, new regulations may soon take place in your state which would prevent you from purchasing this item in the future.

That's the bad news.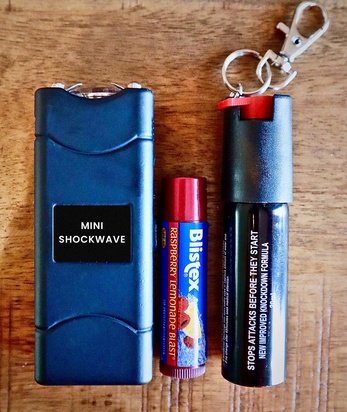 The good news is if you're reading this, odds are you're still legally allowed to own this item.

And the best news?

This combo package of two micro weapons is yours today for XX% percent of the retail price.

The "Hot As Hell" Pepper Spray retails for $24.97.

And the Mini Shockwave Stun Gun retails for $44.97.

That's a retail value of $69.94.

But as part of our "beat the lawmakers" deadline you get them for $29.97.

That's a savings of 56%... or $40.00 off!


The Simple Reason This Deal Exists
We're Patriot Wholesale Club – a leading supplier of elite survival gear at discount prices.

Our offer to give you the Mini Shockwave Stun Gun and Pepper Spray Combo for 56% off is part of an invitation to join our FREE membership to our Wholesale Club.

When you join our club you'll have unlimited access to name-brand gear for 50 - 75% off.

We've got access to name-brand survival gear – and we'll sell it to you before the fancy label gets slapped on it.


• Exclusive access to the newest, most innovative survival gear
• Great deals on gun parts, accessories and tactical gear
• Coupons and discounts on top preparedness/outdoor gear
• Access to information proven to help save lives


And much more!

Right now we're offering this combo for 56% off to help you get these micro weapons before they're impossible for most Americans to purchase.

Remember, that's $29.97 for two powerful weapons.

Or just $14.98 apiece.

Make sure to get yours ASAP.

Because of the threat of future regulations, these are selling quickly and we're running low on supply.


ALERT - The Next 94 People Have A Chance To Receive
A FREE XL Stun Club With Their Order
As you can plainly see the Mini Shockwave Stun Gun and Pepper Spray Combo are amazing tools for self-defense.

What you may not know is the Mini Shockwave has a much bigger and much badder brother.


And you could get one for Free.

Here are the details:

The Mini Shockwave's BIG brother is called the XL Stun Club.

Part billy club, the XL Stun Club has even more power than the Mini Shockwave. A whopping 5.8 million volts!

And while the The Mini Shockwave's "Hot As Hell" Pepper Spray and is great to carry in your pocket or your purse…

The XL Stun Club is 14.5 inches long and weighs 1.32 pounds, which makes it the perfect weapon to keep next to your bed when you hear something go bump in the night.

Normally $99.97, we're giving away FREE XL Stun Clubs to the next 94 people who order 3 or more of the Mini Shockwave Stun Gun and Pepper Spray Combos today.


The Simple Reason We're Giving Away FREE XL Stun Clubs Today
At the end of the day we want our customers to be thrilled with our company… our products… and the value we provide.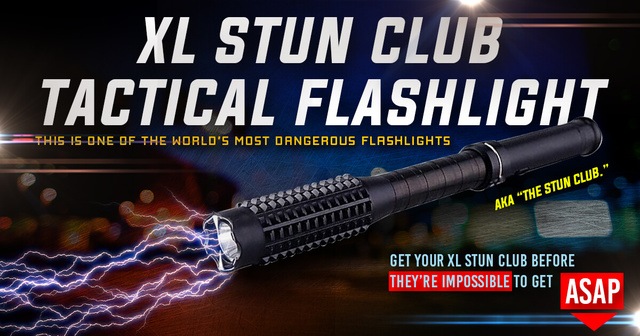 We're hoping by giving you a FREE XL Stun Club with your order today you'll be blown away by doing business with us.

And we hope you'll tell everyone you know about the incredible products you receive from us.

That's it.

If that sounds like a fair deal then make sure to claim your Mini Shockwave Stun Gun and Pepper Spray Combo today.

This combo is perfect for you and to give to friends and family who you want to protect.

The next 94 people who order 3 or more combos are guaranteed to get a FREE XL Stun Club with their order.

Leave this page and you may never see this deal again and will lose your chance to receive a FREE $100 Tactical Stun Club.

Don't Wait!

Click the Big Orange Button and Claim Your Free XL Stun Club Today!